Estella Sweet fights for survival in Philadelphia's Drag Wars
PHILADELPHIA — Over the course of three months, noted NEPA drag queen, Estella Sweet, dressed as a Treasure Troll with bright pink hair, a gray-scaled Shirley Temple who looked to be straight out of a black and white movie, an imaginary villain, Madame Mozzarella, who could control all the cheese in the world and she strutted down a runway dressed as a California Raisin.
Sweet, is putting herself out there in a reality show-based competition, Drag Wars, hosted by Mimi Imfurst of "RuPaul's Drag Race" fame in hopes of being Philadelphia's Next Drag Superstar. Sweet started with 19 other queens in May and has made it as one of the final six contestants by impressing drag mentors and a live Philadelphia audience. But now she's on the chopping block and the only thing that can save her are Facebook likes and shares.
"I've done very well up to this point," said Sweet, whose real life persona is that of Shawn Ebert. "If I come back next week, I will have accomplished what I wanted to accomplish and that's being in the top four."
The competition, which challenges drag queens to go beyond their comfort zones, is a test of charisma, composure and creativity. From week to week the competitors are given a theme, such as '80s toys or TV shows, or genres, such as black and white movies, along with several challenges to perform. Each queen strives to win the challenges and charm the audience.
Sweet's most memorable challenge was when she had to select an old VHS cassette from a box, perform as the main character from the selected movie, "The Brave Little Toaster," and then create an ensemble using the tape from the cassette.
"I actually won that mini challenge," Sweet said. "With help from my mom. She crocheted me a cocktail dress from the tape. It took her about 60 hours she said."
The dress, created by Kathy Tomasko or "Mama Heat," was enough to pin Sweet as the winner of the challenge and that, coupled with enough votes, helped her clinch a safe spot.
"Since the first week, I've always been safe," Sweet said. "I'm the only one that hasn't been on the bottom. Until now. The bottom three go into an online vote and the one who has the most likes and shares is safe and gets to go on."
Voting is set to start at noon on Wednesday. Those interested in supporting NEPA's hometown heroine can vote at www.facebook.com/events/954565384652664 by either liking or sharing the picture of Estella Sweet.
Although advancement in the competition isn't guaranteed at this point, Sweet remains optimistic. Even if she can't garner enough votes to be saved, it's still be an experience she'll never forget.
"I learned that professionalism goes a long way," she said. "I think people's body language, the way they treat others says a lot of their character. It's not always about how good you are but how well you play."
She said she's made many new connections, some of whom she'll bring to NEPA.
"I'm looking forward to bringing home a little taste of Philly," she said.
And she will, beginning Aug. 26 when The Invasion begins. Hosted by Mimi Imafurst, drag queens from Philly will come to Heat, 71 N. Main St., Wilkes-Barre to coach the queens of NEPA in a months-long competition that takes place the last Friday of each month. The winner of the invasion will get the chance to perform in Philly.
"I think it's going to really opening up opportunities for other girls in the area; to show what kind of talent NEPA has," she said.
On Aug. 11, Sweet will find out if her opportunity with Drag Wars continues, but even with enough online votes she's not a guaranteed winner. Sweet doesn't have home court advantage so the locals have a leg up.
Sweet said she brings a few of her friends to the Philly nightclub, but more voters are always welcome. The show kicks off around 10 p.m. Aug. 11 at Voyeur Night Club, 1221 Saint James St. Philadelphia.
Estella Sweet, also known as Shawn Ebert, needs Facebook votes to continue her journey in Drag Wars, a reality-based competition that pits drag queen against drag queen. The winner will be crowned Philadelphia's Next Drag Superstar.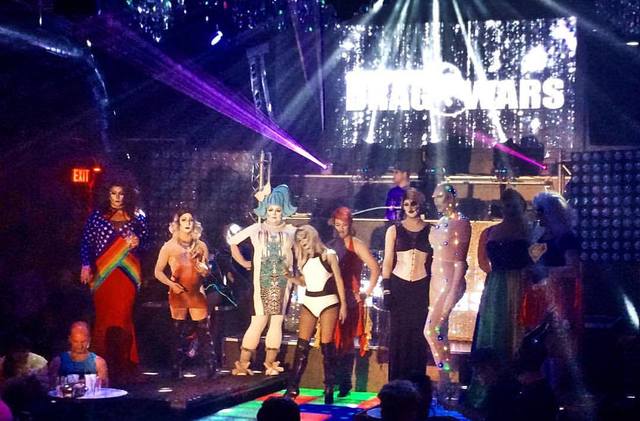 Estella Sweet, third from left, stands with the competition during a recent Drag Wars event. The reality-based competition is held Thursdays in Philadelphia.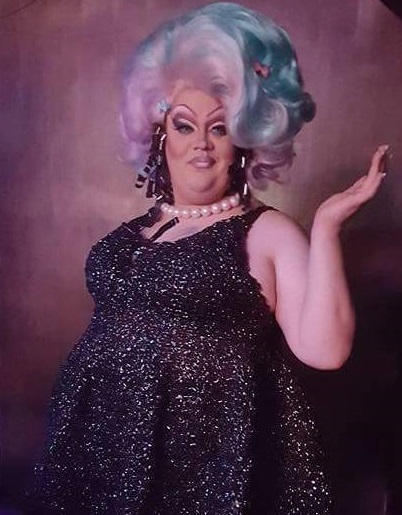 Estella Sweet wearing a cocktail dress her mom, Kathy Tomasko, crocheted from the film tape of a VHS cassette. The ensemble helped Sweet win a mini challenge during Drag Wars.
Reach Sarah Haase at 570-991-6111 or at [email protected]
Voting is set to start at noon Aug. 10 and end at 5 p.m. Aug. 11. Those interested in supporting NEPA's hometown drag queen heroine, Estella Sweet, can vote at www.facebook.com/events/954565384652664 by either liking or sharing her picture.