Wilkes-Barre filmmaker Terrell Bobbett films crime-drama miniseries, 'The Barre' in his hometown
WILKES-BARRE — Filmmaker Terrell Bobbett fell in love with his medium accidentally. Working as a comic book artist and toy box designer for companies like Marvel and Hasbro while living in New York City, Bobbett studied storytelling to improve his skills, transitioning into film as the comic book industry wilted. Now, the Brooklyn-born artist who spent his formative years in Wilkes-Barre has brought a film project back to the Wyoming Valley.
Bobbett is filming a six part crime-drama miniseries called "The Barre" with the help of Wilkes-Barre native and assistant director Brittany Boote, and all shooting has been done in Wilkes-Barre and surrounding areas. The story is a fiction, loosely based on people Bobbett encountered while growing up in Wilkes-Barre.
The film follows a young, female lead into the dark side of Wilkes-Barre.
"The main character is Amber," Bobbett said. "She's a liaison for the audience to bring you through this world behind the world of Wilkes-Barre."
The story follows the lead character as she is a victim of domestic violence, struggles to find a job and gets over her head in the underground drug trade.
Characters, Bobbett said, are composites of people he knows, real personalities built into fictional characters.
"We dramatize a lot, but a lot of it is based off of my peers and experiences and stories that I've heard from these people," Bobbett said. "Like any filmmaker, I'm a product of my environment."
As creator and director, Bobbett enlisted friend and writer Tetro Augury to turn his ideas into scripts. With a mixture of professional actors and local amateurs helping in small parts and as extras, Bobbett has filmed his first four episodes.
"It's a mini-series, because we don't have the budget," Bobbett said. "I literally went broke doing this. Everyone believes in the project so much. I have actors from New York coming out here and sleeping on couches. They're eating McChicken sandwiches and double cheeseburgers from McDonald's just to do the project."
Boote, a local photographer who acted professionally in her teens, was brought on as assistant director after she and Bobbett worked together on a short film. Boote also plays Lydia in the series and said her role as AD has taught her volumes.
"I learned more in about four months than I did in 18 months acting in New York City," Boote said.
Boote feels fortunate to be working on "The Barre."
"I have a connection with the community that is really important to me," Boote said. "I really do care about the community, which is why I still want to live here. I feel lucky to be able to challenge myself creatively here and still be learning so much."
The crime-drama genre, Bobbett said, struck him as he shared time between living in New York and the Wyoming Valley. Several crime series, namely "Money and Violence," caught his attention with their small budgets and good production quality, but he wanted to create something unique.
"I wanted to do something like "The Wire," Bobbett said.
In watching other series, Bobbett noticed they all had similar content and were based in New York City, making him realize he should film in his hometown.
"It's different," Bobbett said. "It's an amazing place to shoot. This is a gold mine of locations."
Those locations, however, were often hard for Bobbett to secure. He said there was a lot of support from local people in lending apartments and properties to shoot street scenes, but businesses were difficult to work with.
"I would go into a spot and ask to use the location, and just because I'm black, they're defensive right off the bat, and some give an automatic no," Bobbett said. "I'll send in a pretty, young, white lady, and we instantly get the location. It's amazing. I'm not arguing with it. As long as we get the location, it's fine."
Bobbett said a few locations, like the Forty Fort Airport, were immediately willing to be involved.
"They were more than happy to do it, and it was a really good location," Bobbett said. "It upped the production value."
Bobbett has also gotten negative feedback from people who think he's glorifying violence.
"There are no hidden messages," Bobbett said. "I'm not trying to extort Luzerne County. It's not about glorifying violence. It's about the consequences if you choose this path."
One harbinger of consequences in the series is played by local music promoter James Callahan. Callahan was asked to step in after another actor had to bow out of the production. He decided to help his friend, Boote.
Callahan said his character, Brian, is a "bad dude," and he's been enjoying the process.
"I'll be the first to say I'm not an actor," Callahan said. "However, they seem to like what I'm doing, and I'm having a blast doing it. I'm super proud to be involved with the project. I think (Terrell's) vision for this, the color and the scope and scale of it, is big. Fans of 'The Wire' and 'Breaking Bad' are going to love this show."
Filming of "The Barre" is scheduled to end in February. Bobbett is seeking investors and distribution and hopes to have a premier for the pilot episode in Wilkes-Barre.
"I want people to see that I can throw a full production," Bobbett said. "I know how to do a production with very little and make it look like I used a lot. If you give me a budget, I can give you something beautiful. Story-wise, I just want people to be entertained."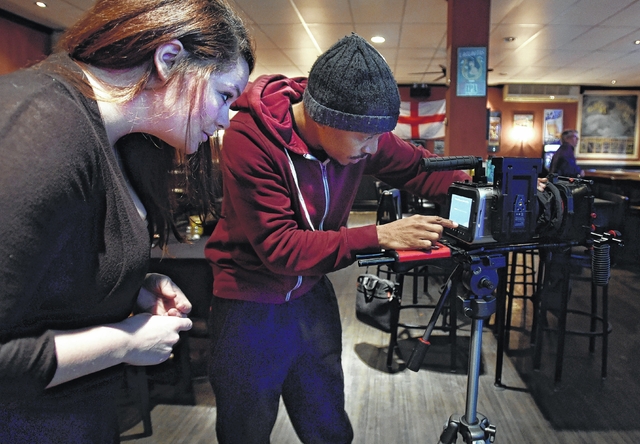 Brittany Boote and Terrell Bobbett look at the scene while setting up at the Susquehanna Tavern before shooting cut away scenes for 'The Barre.'
Terrell Bobbett shoots Brittany Boote and James Callahan for a scene of 'The Barre.'
James Callahan, Terrell Bobbett and Brittany Boote look at a completed scene of 'The Barre.'
Terrell Bobbett films James Callahan and Brittany Boote in a scene of 'The Barre.'
Reach Matt Mattei at 570-991-6651 or [email protected]