After suffering a stroke, Larksville musician Johnny Searfoss had all the motivation he needed to start recording
When he was 42, guitarist and Jim Thorpe native Johnny Searfoss went through what he called a "life-changer." His doctors were a little more frank about it; his doctors called it a stroke.
"It just changes your whole perspective on life," Searfoss, who has lived in Larksville for the last 15 years, said. "You always hear your parents and grandparents say things like you're not guaranteed tomorrow, and as younger people you kind of blow that off, right? Then you get a little bit older and a game changer happens to you; then you start to really appreciate things."
Searfoss appreciated guitar from a young age. The first guitar he got up-close and personal with was made by the American guitar manufacturer Hondo, a company that made beginner guitars with designs based on popular models like Fender's Telecaster and Gibson's Les Paul. Searfoss' parents borrowed a relative's Hondo that was patterned after a Gibson Hummingbird, and the then-6 year-old promptly contracted rock 'n' roll fever.
He entered rock star remission periodically to pursue similarly realistic career options like professional baseball player, but by the time he was 10, the fever was back and treatment proved unsuccessful. Searfoss' high school years were spent playing in his first band, Strider, a cover group that drew on the varied interests of its members to include songs from Top 40 rock and blues acts like Elton John, Boston and Billy Joel.
"We were pretty broad for a bunch of kids because kids tend to be narrow in their music taste until they get a little older and discover more," Searfoss said. "That's what kind of helped mold me into the kind of player I am today I suppose. Strider was a group of people in Hazleton at the C&C Music Store (C & C Music Center on Pine Street). When we got out of high school and went our separate ways to go to college new bands started to spring up and that's kind of the route I went."
Searfoss' 1984 high school graduation was followed by an enrollment in Wilkes University, where he studied communications with a minor in journalism. After graduating in '91 and finding his prospects in the job market uninteresting ("I had to do something that wasn't going to bore me to death every day"), the guitarist put together a number of bands and began making money through music. Each of Searfoss' projects were cover bands, but that doesn't mean the musician wasn't writing original material.
He described the scene at the time as "shrinking," with attendance falling at live music clubs and the methods people used to consume their music changing. He saw the dwindling scene as an obstacle between his original music and its potential audience, but that obstacle's height seemed inconsequential after he survived his stroke.
"That kind of turned my head around and got me really motivated to do the original material," Searfoss said. "I got tired of waiting around for people to do originals so I decided I'll just do an album on my own. Through the years I started to collect other instruments and get decent at playing them, so I got a recorder and started to put down parts."
Searfoss released his 10-track self-titled debut in 2013 and used friends to play the parts he wasn't comfortable enough recording himself (harmonica, keyboards and drums). His follow-up, December 2015's "Bring Back My Radio," expands his studio personnel to include a trumpet player, trombone player and two saxophone players, but Searfoss has yet to find fellow musicians who will commit to helping him take his act live.
"I'm still looking for permanent members," Searfoss, now 49, said. "I have two cover bands and it's just basically to earn a couple bucks and to have some fun while waiting to find permanent members for the original project."
The lack of permanent members hasn't stopped Searfoss from beginning work on his third album, but the guitar player is still actively looking for a drummer, bass player, keyboard player and second guitar to accompany him. In 2007, Searfoss was motivated to record his songs, but now the musician is looking for a new game changer; one that will help him take those songs from stereo speakers to live amplifiers. Interested parties inquire promptly; after all, you're not guaranteed tomorrow.
Johnny Searfoss' albums are available for streaming on Spotify and purchase on iTunes or at his website, johnnysearfoss.com.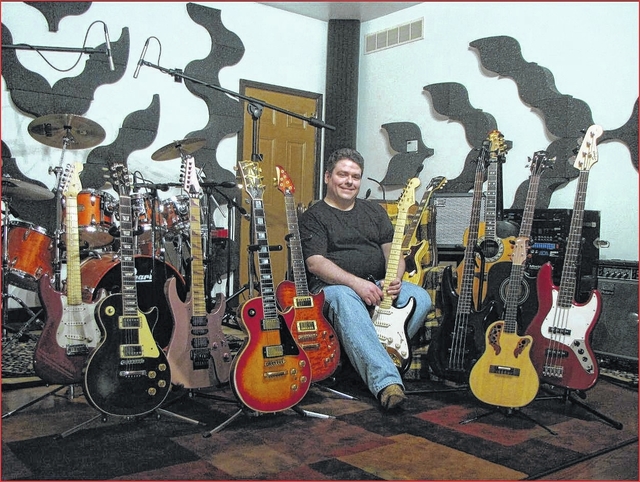 Reach Gene Axton at 570-991-6121 or on Twitter @TLArts