Rubber Mallet, Comics on the Green treat customers to free books Oct. 29
Comic book shops are getting into the holiday spirit and offering free comic treats without any tricks Halloween weekend.
On Oct. 29, retailers in more tahn 30 countries will celebrate the fifth annual Halloween ComicFest by offering 32 different free titles featuring characters like Darth Vader, Squirrel Girl, Scooby-Doo and the "My Little Pony" gang. Rubber Mallet Comics in Pittston and Comics on the Green in Scranton are among the shops taking part.
Comics on the Green owner David Romeo Jr. said there are a number of advantages to taking part in the themed event.
"Halloween ComicFest is a great way to introduce young readers to comics, and it's an excellent way for comic shops to keep the momentum of summer sales going, as well as begin holiday promotions," Romeo Jr. said.
In true trick-or-treat fashion, Comics on the Green plans to offer candy to patrons. Rubber Mallet Comics owner Chuck Rowles said his shop's graphic novels will be 50 percent off, while back issues will be on sale for $1. Rowles said Halloween ComicFest serves as the kickoff for a nationwide costume contest through Diamond Comic Distributors called The Greatest Halloween Costume Contest Ever.
"You need to dress up in your costume and take a picture holding one of the free comics, upload your photo to their website, you share and get votes for your costume and you could win a shopping spree," Rowles said. "There are five different categories … some of it's random, some of its based on votes you get online. We supply the comics you take your picture with."
For more information, visit HalloweenComicFest.com, call Rubber Mallet Comics at 570-655-5522 or call Comics on the Green at 570-342-5960.
The fifth annual Halloween Comic Fest is Oct. 29. The comic shop holiday is followed by Nov. 19's
Local Comic Shop Day
. Designed as the Record Store Day of comic shops, a number of limited edition items will be offered by small comic shops like West Pittston's Rubber Mallet Comics.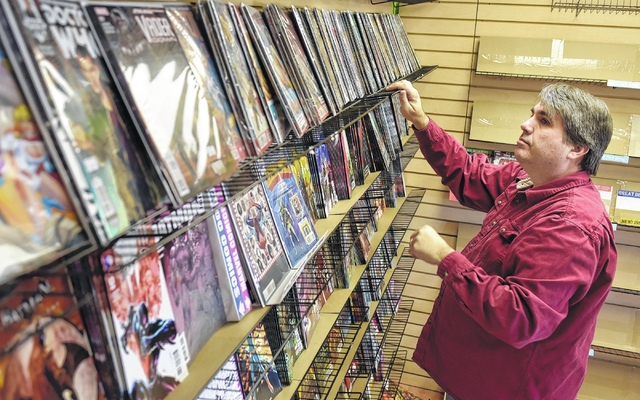 Comic book shop owner Chuck Rowles plans to stock shelves with Halloween comics Oct. 29, including more than 30 free books offered on a first-come, first-serve basis during Halloween ComicFest.
Reach Gene Axton at 570-991-6121 or on Twitter @TLArts
IF YOU GO
What: Halloween ComicFest, featuring free holiday-themed comics on a first-come, first-serve basis
When: Oct. 29. Rubber Mallet Comics is open from 11:30 a.m. to 5 p.m. Comics on the Green is open 11 a.m. to 5 p.m.
Where: Rubber Mallet Comics is located at 802 Wyoming Ave., Pittston. Comics on the Green is located at 307 N. Washington Ave., Scranton
Free full-sized, all-ages books: 'Action Lab Presents,' 'Adventures of the Aspen Universe,' 'Afterlife with Archie Season Two,' 'Darth Vader Doctor Aphra #1,' 'DC Super Hero Girls #1,' 'Haunted Mansion #1,' 'Kitaro Strange Fun for Evryone,' 'My Little Pony The Haunted Dungeon,' 'Scooby Apocalypse,' 'Spidey #1,' 'The Three Stooges Halloween Hullaballoo #1,' 'Unbeatable Squirrel Girl You Choose Story #1,' 'Wraithborn.'
Free full-sized, mature readers only books: 'Zombie Tramp Dollfaced Witch Hunter,' 'Junji Ito Tomie,' 'Quilte #1 (mature readers),' 'Evil Dead 2 #1,' 'Black Eyed Kids #1,' 'Harrow County #1.'
Free mini comics: 'Archie's Mad House,' Boom Box Halloween,' 'Carpenter Travellers Tale,' 'Grumpy Cat Halloween,' 'Johnny Boo,' 'Little Tails,' 'Lunch Witch 2,' 'Mickey's Inferno,' "Mummy's Always Right,' 'Peach & The Isle of Monsters,' 'Pokemon Pocket Comics XY,' 'Tim Burton's The Nightmare Before Christmas Manga,' 'Zombie Camp.'