Meet third generation pizza maker William Ricci of Wilkes-Barre's Angelo's
WILKES-BARRE — In the Ricci family, making pizza is a hereditary trait passed down through generations.
When Angelo Ricci opened his eponymous pizzeria in 1960, 7-year-old Angelo Jr. was on-hand to help during the restaurant's first day. In 1979, Angelo Jr. opened his own restaurant, Ricci's Pizza, a few blocks away from his father's location on Hazle Street.
Angelo Jr.'s son, 31-year-old William Ricci, also spent time in his family's dough dojo, learning their secret pizza techniques. He said his first memory working at Angelo's Pizzeria comes from when he was 10, helping his grandfather make dough for the next day's rush.
"It's in the family," William said. "My grandfather loved it and I was always with my grandfather and he taught me everything from fixing an oven to making pizza. From then on it was just something cool to do. It was my thing, you know?"
As time passed, William graduated from dough baller to pizza maker and continued to take on responsibilities until he became as comfortable in the pizzeria's office as he was in its kitchen. After years in the Hazel Street shop, William purchased Angelo's Pizzeria in 2011 at the age of 26.
"We were hoping to make that go smooth," said Angelo Jr. about the restaurant changing hands. "He was working with my dad for a couple years and in the meantime we were sort of grooming him what to do and what not to do before he did take it over."
One thing the second generation pizza pusher stressed to his son was the importance of consistency. William was advised against major changes to business operations, ingredients and recipes, but the young business owner considered other ways to make his mark on Angelo's Pizzeria, like expanding Friday-only lunch service to other days of the week and improving the restaurant's floor.
"I just did a lot of work to the building and the business," William said. "I'm trying to make the building bigger and make the wait less, as long as I can add the space."
According to Angelo, who sold the business at 65 because he felt it was time to retire, his grandson is making good decisions with the pizza place he started at 29.
"He's on a good track, but business can always improve in some way or other," Angelo said. "That's going to be up to him. I can't see how he could improve, (maybe) by opening longer hours, but he's really busy enough as it is. He doesn't really need longer hours."
Something that hasn't changed much at Angelo's Pizzeria are the faces. William inherited a staff that includes four employees with 30-plus year tenures, including 43-year employee Donna Krull. Krull, who has worked at the restaurant since she was 16, contributed her own creation, the sweet sauce, to the pizza shop's menu in the early 2000s.
Krull's son Ryan was the inspiration for it.
"He didn't want pizza, so I altered the sauce and then he ate it," Krull said. "I'd make him a little mini (pizza) and he shared a piece and that's it. Then people said, 'hey, can I have that Ryan's sweet sauce?'"
Krull's place of employment may be under new ownership, but only in given name; for the Ricci's, pizza is passed down like a garlic herb infused heirloom, and William Ricci is a third generation pizza man pursuing his passion.
"It was my interest since I was a little kid," William said. "I'm just trying to keep the family business going."
His grandfather says he's on the right track.
William Ricci, 31, prepares a pizza and Angelo's Pizzeria on 445 Hazle Street in Wilkes-Barre. At 26, William purchased Angelo's from his grandfather Angelo Ricci.
William Ricci, 31, prepares a pizza at Angelo's Pizzeria on 445 Hazle Street in Wilkes-Barre. Ricci began working at the pizzeria at age 10; at 26, he purchased it from his grandfather Angelo Ricci.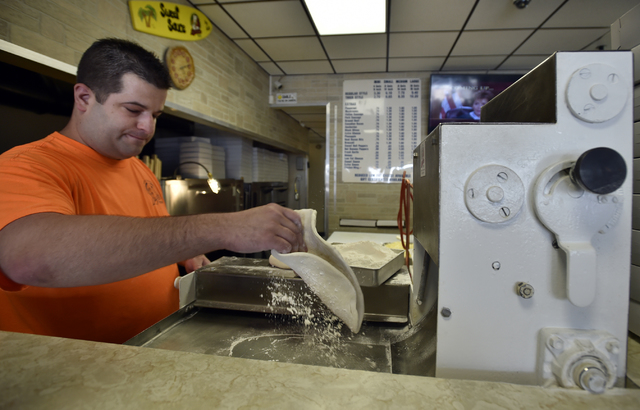 William Ricci, 31, prepares a pizza at Angelo's Pizzeria on 445 Hazle Street in Wilkes-Barre. At 26, William purchased Angelo's from his grandfather, Angelo Ricci. father, Angelo Ricci Jr., owns Ricci's Pizzeria, while his uncle Gerald Ricci owns Gerry's Pizzeria.
Reach Gene Axton at 570-991-6121 or on Twitter @TLArts
All in the Family
When he was 10, Gerald Ricci started working with his father Angelo and brother Angelo Jr. in his family's pizza shop. In 1981, after more than a decade learning the family craft, a 22-year-old Gerald opened Gerry's Pizzeria, the third Ricci-owned option in the Wyoming Valley.
Gerald, now 59, recently purchased the building next to his 496 Carey Ave., Wilkes-Barre location and removed it to make room for improved parking, a larger dining room and a better-equipped baking area. Gerald's 30-year-old son Brian, who spent 7 years working as a chef for hospitality company Marriott International after graduating from the Culinary Institute of America, came back to help.
"I've been down here since I could walk," Brian said about his time at Gerry's.
Gerald said the renovations and Brian's return are part of Gerry's Pizzeria's transition to the next generation.
"He's back in the business with me now helping me out as I helped my father out," Gerald said. "That's probably the reason for the expansion. I'm almost 60, I really wouldn't need to go into another big expensive construction project. My son is going to be able to keep my business going on as I phase myself out and retire in the not-so-near future."