Black Friday shoppers share tips for surviving the retail rush
The thrill of the hunt. That one special item. Staying ahead of Christmas and quality time with family. These are all motivating factors for people who shop on Black Friday, but traditions, strategies and goals vary with each shopper.
Black Friday shoppers from across Northeastern Pennsylvania shared their stories with us this holiday season to give their perspectives. Whether the hardcore shopper, the laid back coupon cutter or the retail warrior just in it to bond with parents or children, these box store Santas offered us an insight into surviving the busiest shopping day of the year.
Darlene Payne, of Dallas, goes Black Friday shopping with her 21-year-old daughters, Sarah and Jillian. She said when her children were growing up, the family would gather at the Thanksgiving dinner table, spread out fliers and make Christmas lists based on bargains.
Payne suggests taking a laid back approach and enjoying time spent with family rather than competing for big ticket items.
"We would always go and look for that special something on the list," Payne said. "It was fun to spend time with my daughters, especially as they got older. I never fought for the 80 inch TV, and I've found that people are nice."
Payne said she and her daughters would go shopping at 4 a.m. on Black Friday and finish up around 11 a.m. with lunch.
"Then I hit the Hallmark store for buy-one-get-one wrapping paper, and I wrap everything as soon as I get home," she said. "It makes me feel like I have a jump on Christmas."
Shopping on Thanksgiving Day, which has become popular in recent years, is not an option for her, but Payne said she is seeing the trend shift toward online shopping.
But for Payne, it's the excitement that keeps her going back out on Black Friday.
"I do it just for the sport of it," she said. "Even after cooking dinner, I get energized by the idea of starting Christmas. As far as being in a big line, I don't have any experience. We just meander around. We always stick together, and it's just a good time."
Sharon Belko-Hart, of Pittston, goes about her Black Friday shopping with a more regimented plan of attack. The self-proclaimed Black Friday addict said it's all in the planning.
"I started already," Belko-Hart said. "I usually start scoping out adds online. Thursday morning, when my husband is coming home from work, he gets the papers so we have all the adds."
After she gets her turkey in the oven, Belko-Hart said she maps out the stores she's going to hit and makes a schedule.
"We usually start at Walmart, and we'll go to the Wilkes-Barre Walmart, because Target and the mall are close," she said. "Location is key."
Belko-Hart has adapted with stores opening their doors on Thanksgiving.
"I always have dinner on the table early," she said. "We're usually finished at 3 p.m., and I'm in line by about 4 or 5 p.m. In the past, I'd be up and out at about 1 a.m."
Belko-Hart said over the years, she's been bitten over a Doodle Bear and knocked over for a Furby, but she puts up with the madness for the the thrill of the hunt.
"It's a rush," she said. "I've never been beaten by Christmas. There's never been a gift or a toy that somebody wanted that I didn't get."
Belko-Hart, who started Black Friday shopping with her mother when she was a girl, said she can't imagine not going and has advice for less experienced shoppers.
"Stay away from Toys R Us, and have patience, because if you don't, you're not going to be OK," she said.
Ann and Melissa Williams, in contrast, said they can't imagine doing Black Friday any way but casually. The mother-daughter duo will look for deals in their email notices but usually wait until Thanksgiving to spread out the fliers.
"It's time for us to be together," Ann Williams said. "It's time for listening to Christmas music really loud in the car and drinking coffee."
The pair tends to head out around 3 a.m. and start in Dickson City, making their way to Scranton retail stores and the Shoppes at Montage in Moosic, where they'll meet family during the daylight shopping hours.
Ann said she looks out for the availability of certain popular items, like the Nintendo NES Classic, but she'll only go so far.
"For us, there's nothing worth sleeping outside," Ann Williams said.
Although she doesn't subscribe to it, Ann Williams said she enjoys being around the intensity of the serious shoppers.
"I like the energy you get when you get there and hear the din of all the people," Ann said.
Ann and Melissa suggest taking turns in long lines if shopping in a group.
"The other thing is just to have fun, and be nice to the people who are working (at the stores)," Ann said. "If something doesn't ring up or isn't in stock, they have nothing to do with it."
Melissa Williams, left, and her mother Ann, both of Scranton, look over Black Friday ads. The mother-daughter shopping duo said it's most important for them to have fun while Black Friday shopping.
Ann Williams, right, and her daughter Melissa, both of Scranton, take the casual approach to Black Friday shopping. The pair suggests taking turns waiting in long lines to allow everyone in a group to browse stores.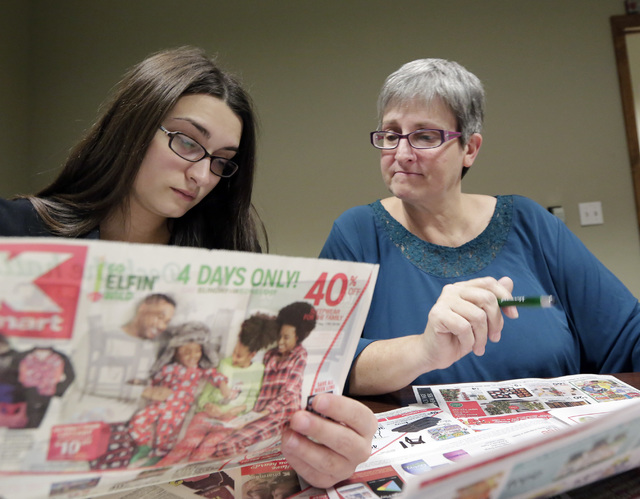 Melissa Williams, left, and her mother Ann, both of Scranton, don't do much planning before they go Black Friday shopping. Sharon Belko-Hart, of Pittston, by contrast, tends to look for bargains early, map out her route and follow a tight schedule to accomplish her shopping goals.
Reach Matt Mattei at 570-991-6651 or Twitter @TLArts