Wilkes-Barre St. Patrick's Day celebrations set for March 13 and downtown businesses are ready
WILKES-BARRE — On March 13, the 36th Annual St. Patrick's Day Parade won't be the only celebration happening in downtown Wilkes-Barre's Public Square. One of its tenants is turning 1, and those 21 and over are invited to the birthday party.
"We opened last year on St. Patrick's parade day for Franklin's," said Rodano's and Franklin's Bar Manager Matthew Kovalski. "That was our first day open, so 11 o'clock in the morning we open up and we hope to bring everybody in."
Franklin's sister bar Rodano's is a St. Patrick's parade veteran – March 13 will be the bar's seventh parade day celebration, and this year they're hosting the Ancient Order of Hibernians, the largest Irish Catholic organization in America. The AOH will have its own private room, though; the rest of Rodano's is open to parade patrons, and Kovalski said both bars will be equipped with ample bartenders, bussers and security.
Mimmo's Pizza on the square is traditionally closed on Sundays, but owners Mark and Nancy Bronsberg will open the shop March 13, just as they have for parade day every year in the past, to give pizza-seeking parade day patrons another option on Public Square.
Mark said Mimmo's may have a special St. Patrick's menu item available; he successfully tested green pizza dough, but the long-term results have him apprehensive.
"I don't know if it's going to work or not; I don't want to say yes or no," Mark said. "It worked out good, only bad thing is your poop turns green."
Dunkin Donuts on Public Square is anticipating a large demand for coffee on parade day. According to District Manager Claude Webb, the location will serve 400 people in a three-hour period. They're also a participant, with mascots Cuppy and Sprinkles marching and an outside table serving hot chocolate, cookie cups and cups of munchkins (doughnut holes).
The location of Senunas' Bar and Grill on North Main Street may put it off the parade route, but Bar Manager Dave Scherbenco said they get a large, diverse crowd ranging from first-timers to traditionalists.
"We get a great crowd here and it's across the board," Scherbenco said. "Everybody gets a beer and has a good time – the right kind of good time. Everybody respects each other."
Senunas' doors open at 9 a.m. and Scherbenco plans to offer kegs and eggs and breakfast items until 11 a.m., followed by a wide rage of ethnic Irish food throughout the day. The bar will also be visited by two bands, Ceol Mor Pipe and Drum and Wyoming Valley Pipe and Drum, during the celebration.
Sixty-six-year-old Wilkes-Barre resident Butch Modzelewski is a founding member of the latter.
"We're just like a bar band, you know," Modzelewski said. "We spend an hour in each bar. We play like five sets, take a break … play five more sets, and then watch out!"
Wyoming Valley Pipe and Drum will march in the parade, which features retired Wilkes-Barre Police Chief Joseph T. Coyne as grand marshal.
"When one policeman needs another policeman it's called backup," said Coyne about Wilkes-Barre Mayor Tony George asking him to serve as grand marshal. "I was there."
Coyne is the honorary participant in a parade that begins at 2 p.m. at the intersection of South Street and South Main Street downtown, travels into Public Square then ends at Union Street and North Main Street. The chance of precipitation for the day is 80 percent, but the low is predicted at a well-above freezing 50 degrees, with temperatures reaching as high as 61. Despite the rain, Assistant to the Mayor Tyler Ryan said the city is expecting a turnout comparable to previous years. Kovalski expects to host thousands throughout the day at Franklin's and Rodano's.
"At Franklin's we're going to open the door up," Kovalski said. "If we can be anywhere close to 50, 60 degrees on that day we're going to be blessed."
Kovalski said the freezers at Franklin's and Rodano's are stocked full in preparation of this weekend; it seems he plans to share the blessings with those carrying proper identification.
A dog all decked out in green for the Wilkes-Barre St. Patrick's Day parade last year.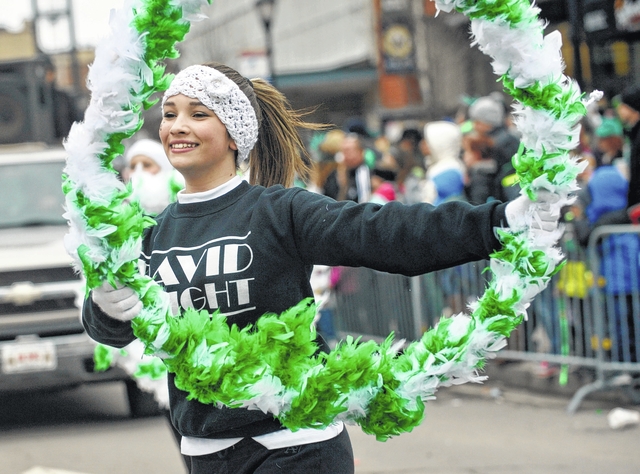 The David Blight School of Dance students march in the Wilkes-Barre St. Patrick's Day parade last year.
The Mohegan Sun float and their employees turn onto Public Square last year during the Wilkes-Barre St. Patrick's Day parade.
Reach Gene Axton at 570-991-6121 or on Twitter @TLArts