Scranton musician, Steamtown Music Award winner, Asialena Bonitz giving opening performance at Penn State's THON fundraiser
Music is a healthy outlet for Asialena Bonitz. She plays to get her mind away from the intensity of her routine as a civil engineering student at Penn State University, but for a musician who is interested in little more than a balanced lifestyle and peace of mind, she has garnered serious attention recently.
The Scranton native, who performs mostly covers of popular tunes from the '70s through today, was named Best New Artist and Best Female Vocalist at the 2015 Steamtown Music Awards. Her most recent recognition came in being aked to sing the national anthem at Penn State's THON fundraiser for pediatric cancer on Feb. 19 to 21 at the Bryce Jordan Center in University Park. Bonitz will perform two songs to open the event before delivering her rendition of "The Star Spangled Banner."
"This is the best thing that's happened to me musically so far," Bonitz said. "They pack that stadium. It seats 15,000, but I was in there last year, and the whole floor is filled, everyone's tight together. They probably put 20,000 people in there."
The large crowd awaiting Bonitz is light years from where she began five years ago.
"My first open mic I went to was at … Fresno's in Dickson City," Bonitz said. "Literally, my dad had to beg people to come listen to his 15-year-old play, because no bar wants to book a 15-year- old."
With determination and the support of her father, Randy, who Bonitz said is her "number one supporter," her reputation grew.
Bonitz's Best Female Vocalist honor was voted on by a panel of industry professionals, but her best new artist accolade was the result of voting by the public.
"I have a lot of musician friends to thank for that, that push my stuff out daily," Bonitz said.
Electric City Music Conference co-founder, Joe Caviston, was on the voting committee for the 2015 Steamtown Music Awards.
"The best new artist is voted on online, open to the public," Caviston said. "She ran away with that vote. She probably had double the amount of votes as the next person in line."
Caviston said Bonitz is not the traditional cover artist.
"I think she's extremely talented," Caviston said. "She definitely has a unique voice, and she plays a great range of songs."
Caviston called Bonitz a seasoned artist, who was only nominated for Best New Artist because it was her first time being nominated, and he noted her victory in the female vocalist category was an unbiased win.
"That was voted on by local music professionals, venue owners, music journalists," Caviston said. "But to keep it all fair, so there wasn't any bias, there was another group of established national music professionals that have no ties to Scranton."
Bonitz has original songs to share with audiences, but she prefers to play covers for bar crowds, periodically inserting one of her own tunes into a set.
"I just try to pick the songs I play based on the audiences I play to," Bonitz said. "I never make set lists. I'll open up with something that I feel everyone would like, and then I'll just read the crowd. If I feel like they want to hear older music, I'll pick something out from the '70s and play that."
Currently, Bonitz plays with drumer Brian Banks and guitar player Jon (Jonny D) Dressler in the form of separate duos or as a whole band. Playing with area musicians, Bonitz said, has helped her grow.
"One of the first musicians that really helped me out through everything was John Quinn," Bonitz said. "He's helped me get so many gigs. He's introduced me to so many people, so many bar owners."
Quinn, an Archbald resident, has performed in Northeastern Pennsylvania for 40 years, and recognizes Bonitz as a special talent.
"She's a natural artist," Quinn said. "There's nothing fake about her, and it doesn't take her much to win people over."
Quinn said Bonitz captivated a crowd at a recent out-of-town performance.
"We just played this Sunday … down in Jim Thorpe," Quinn said. "The bar, the restaurant, everything was packed from the holiday weekend. The moment she started singing, you could see everbody in the bar … focused on her. Mouths were wide open."
While talent flows from Bonitz, Quinn said she continues to keep a level head.
"As a person, she is not smitten by it at all," he said.
Bonitz's focus on education remains steadfast, but she was thrilled about a recent collaboration with a local blues icon.
"I'm so grateful," Bonitz said. "I actually got to work with Clarence Spady. A couple months ago, he threw together a jazz band, and we played a couple shows at Carl Von Luger (and) Asian Bistro. It was cool to go to his house and have practices and be able to look back and play with those musicians, because you can take so much from that."
While engineering is what currently drives Bonitz's potential career path, she appreciates the value music provides her.
"Civil engineering is such a hard major," Bonitz said. "I have so much going on with that, so I need this to get through everything else in life."
In the meantime, she is excited to open the 46-hour dance marathon.
"THON is the largest, student-run, fundraiser in the world," Bonitz said. "I was there last year just to partake in the event, but to actually be on stage for the event is going to be ridiculous. The energy in that place is insane; all the kids you get to meet that are currently fighting. It's so emotional in there."
Asialena Bonitz sings at V-Spot Bar in Scranton on Feb. 11.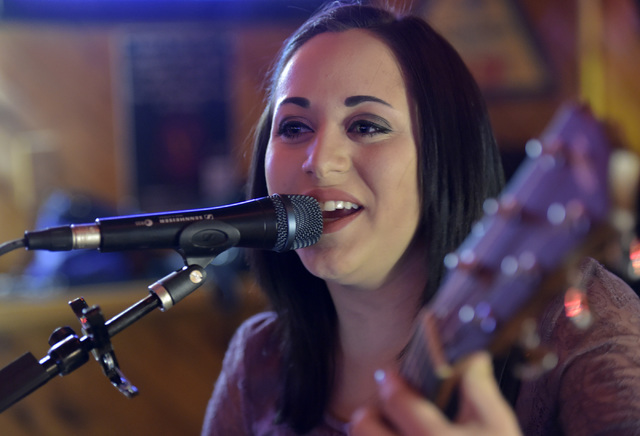 Asialena Bonitz sings at V-Spot Bar in Scranton on Feb. 11.
Asialena on stage with John Quinn and Q-Ball at Arlo's Tavern in Union Dale.
Asialena performs with Clarence Spady in 2014.
Asialena performs with Clarence Spady in 2014. Asialena will perform at THON Feb. 19.
Asialena at a live solo performance.
Asialena performing with drummer Brian Banks.
Reach Matt Mattei at 570-991-6651 or [email protected]