Latest video from local skaters celebrates anniversary, raises awareness
WILKES-BARRE — Twentieth anniversaries are traditionally commemorated with gifts of fine China, but one local group is celebrating its 20th year together by gifting money to a charitable cause.
North East Skate Crew (NESC) was founded in Dallas in 1996 by T.C. Harding, Brent Postupak and Jason Pearce. Harding said since starting the crew he counts its membership in the hundreds, and he and his fellow skaters will celebrate that history with the Dec. 29 premiere of their newest skate video "Purple" at Arts Youniverse. A portion of the $5 admission fee will be donated to American Foundation for Suicide Prevention.
Skaters make videos like "Purple" to showcase their skills. Videos consist of trick montages from featured skaters with short video pieces in between. The name of the video is a reference to suicide awareness ribbons, which are purple, and a recognition of the members and friends of the club lost to suicide. Harding said suicide is a cause that hits him and the skate crew close to home.
"The fact we're still skateboarding and doing what we love as a crew is the most special thing to me," said Harding, 34. "Also, honoring one of our founders who we lost way too early. Brent Postupak really was the main vision for this all. He gave us all something very special and it's going stronger than ever."
NESC has spanned generations of area skaters — crew members range in age from men in their 30s to teenagers who just earned the right to attend an "R" rated movie without parental supervision. At 26, Edwardsville resident Eric Del'Arte sits in the middle. He said he remembers watching VHS tapes of NESC skaters before joining the crew when he was around 14. After substance abuse took Dellarte away from skating, he tried to take his own life by overdosing. Members of NESC visited him in the hospital and accompanied him at support meetings. Del'Arte has now been sober for nearly two years.
The group needed one more person to fill a final feature spot in the "Purple" video and Del'Arte was the unanimous choice.
"This is the first video part I've ever had where I've been completely sober the whole time," Del'Arte said. "It meant a lot to me personally, but I think the other dudes saw that and not only was the skating up to par, but they're like, 'yo, unanimously, you get the last part.'"
Del'Arte's feature at the video's finale is preceded by a piece spotlighting 27-year-old Hazleton resident Jeremy Ladner. Ladner joined NESC when he was 16 and shared the same story as Del'Arte — a friend brought him along one day, he was informally accepted into the crew's ranks and he has since skated under its banner.
"If it was going to be an accurate representation of the 20-year history of NESC and its significance, then we had to do something more than just make the skate video, do something to pay it forward and give back," Ladner said. "Skateboarding can be an avenue for expressing yourself — it's also an avenue where you can make achievements elsewhere."
Ladner said NESC taught him teamwork — working together with peers to achieve a shared goal, like their skate video "Purple." For Del'Arte, NESC is a lifestyle — he called skateboarding a "blessing" and said he's working to grow the crew so the next generation of young skateboarders don't stray down the wrong path. Harding said NESC and his friends through skateboarding helped him do both.
"Without skateboarding and this crew I probably would of been dead or in jail for a very long time," Harding said. "It gave me a way to put my hyper-activity into something positive. It has lead me to chase my goals, aspirations and dreams. I've accomplished some of them because of skateboarding and NESC. I didn't really have any goals or dreams before it. Hopefully we as a crew can influence somebody else to do the same."
Kingston resident Tyler Kennedy tricks over a fire hydrant during a filming session with North East Skate Crew. Kennedy will be featured in the crew's newest video, "Purple," premiering Dec. 29 at Arts Youniverse in Wilkes-Barre.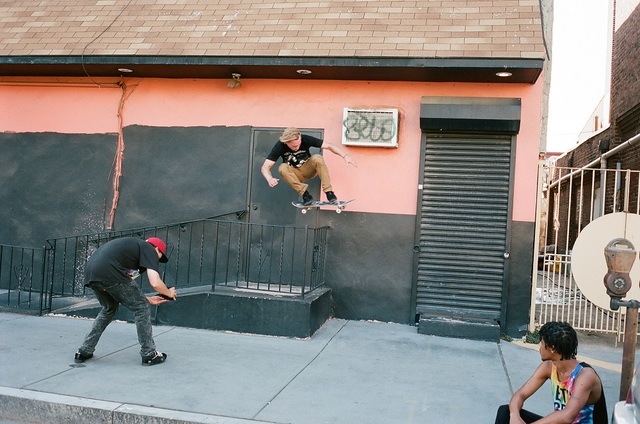 Hazleton resident Jeremy Ladner is filmed for North East Skate Crew's newest video "Purple." Ladner has the next to last featured part in the new video, which premieres Dec. 29 at Arts Youniverse in Wilkes-Barre.
Reach Gene Axton at 570-991-6121 or on Twitter @TLArts
IF YOU GO
What: A premiere of North East Skate Crew's 20th anniversary video "Purple." A coat drive for Clem-Mar House, a facility where substance abuse is treated.
When: Dec. 29. Events start at 6 p.m., video premiers at 8:30 p.m.
Where: Arts Youniverse, 47 N. Franklin St., Wilkes-Barre
How Much: $5
After Party: Sets from Conscious Pilot, Fantasy Camp and Poison Thorn will follow the screening at The Other Side, 119 S. Main St., Wilkes-Barre