Nanticoke hiker Keri Venarchick builds character, gains confidence on Appalachian Trail
People turn to a multitude of outlets to exorcise demons. They get lost in their jobs, their passions, their relationships, but one Nanticoke woman got lost in the woods.
Keri Venarchick, 26, walked 2,189 miles from Springer Mountain, Ga. to Mount Katahdin, Maine, along the entire Appalachian Trail. The trip took her nearly five months. She started on April 1 and reached her destination on Aug. 24. She returned to the Wyoming Valley changed by the experience, she said.
Keri, an avid outdoor enthusiast, said her twin sister, Erin, got her interested in the Appalachian Trail, and the sisters planned to thru-hike (walk the entire trail) together. This year, Keri said she felt the journey inside of her and had to embark on it, although her sister couldn't join her.
"I needed a change," Keri said. "I felt like my life was falling apart … and I needed to get out in the woods and do the trail."
Erin and Keri's father, Peter, accompanied Keri along the mile up to Springer Mountain to start her trek. That, she said, was her last moment of doubt.
"It was overwhelming to say goodbye," Keri said. "I didn't know when I was going to see them again or be able to contact them. In that moment, I was like, 'I'm doing this.' All I had to do was walk forward."
And she did.
She walked through 14 states, through varying terrains and weather conditions, learning the thru-hiking ropes as she went.
Before her journey began, Keri said she read a lot of blogs by experienced thru-hikers to best prepare herself for the trip without spending an exorbitant amount of money. As most first-timers do she over prepared.
"Half of my stuff, I got rid of within the first week," Keri said. "They say within the first week, if you haven't used it, get rid of it."
Keri started walking about eight miles per day, soon moving up to nine and 10 miles per day. By the end of her journey, she was covering about 20 miles per day. She'd walk alone during the day and meet up with fellow hikers at designated shelters at night. Although she set out alone, she said, she wasn't bothered.
"I love being alone," Keri said. "Being in the woods, I'm so comfortable … like the trail is there to protect me almost."
Despite her comfort level on the trail, Keri said there was no way for her to be 100 percent prepared for her first extensive backpacking trip.
She encountered her first obstacle four days in — a spring night that got cold enough to bring a frost. She and other hikers had to call a hostel to pick them up.
"It's not a walk in the woods," Keri said. "It's a whole adventure."
She also found out how hard thru-hiking can be on the feet, experiencing blisters, bruises and tendon pain.
"You can always tell a thru-hiker to a day hiker when they wake up in the morning," she said. "You wake up and walk so stiffly."
Keri even felt she had her fill of climbing at one point. She began checking the elevation map each morning and becoming disheartened by consistent climbs.
"But as the days went on, I would meet people and gather their energy," Keri said. "I'd realize all I had to do was put one foot in front of the other."
Thru-hikers are traditionally given trail names by those they encounter. Along the way, she met friends with the trail names like Yeti, Long Cloud and Scavenger. Keri was given the name Cookie because she is a vegan baker by trade.
Charles "Long Cloud" Freeman, of Dingman's Ferry, said Keri is a modest human being with "massive amounts of drive and courage" who is at home in nature.
"She is definitely soft spoken, but she knows how to handle her own in the middle of the woods," Charles said. "What impressed me the most about Cookie's hike was her ability to remain vegan the entire trail."
Erin said the trail affected Keri in a positive way and that she retured from her journey more laid back than when she left.
"She learned from the trail that if you want to go conquer something, just go and do it," Erin said. "Don't let your mind or other people or events stop you from doing what you want to do, especially if its something that makes you happy and fulfilled inside."
Keri said her time spent on the trail, with like-minded people, cured her of the discomfort she felt in her own skin.
"It gave me the confidence boost to be myself," Keri said of the trip. "I took that back into this world. I feel OK just being who I am, not being afraid of the way I look, the way I act or the things I say. It's a character builder."
From left: Peter, Keri and Erin Venarchick paused at Springer Mountain, Ga. to say their goodbyes before Keri embarked on her thru-hike of the Appalachian Trail in April.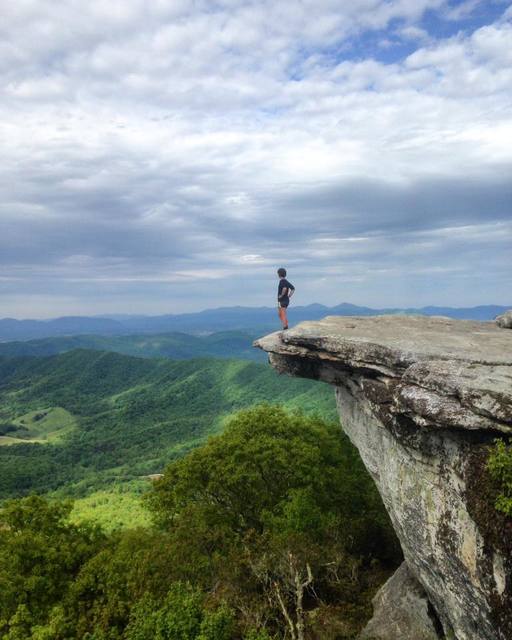 Sublime scenery was part of daily life as Keri Venarchick, of Nanticoke, hiked the entire Appalachian Trail. The thru-hiker scaled mountain head walls, took in views from atop balds in Virginia and stopped to survey the landscape from the edge of this cliff.
Keri Venarchick, of Nanticoke, crossed the James River on the longest foot bridge on the Appalachian Trail. The 26-year-old walked through 14 states during her thru-hike of the AT.
Keri Venarchick, of Nanticoke, hiked the entire Appalachian Trail, traveling from Georgia to Maine between April 1 and Aug. 24. She said during warmer months, she and fellow hikers would often stop early to swim in pristine bodies of water.
Keri Venarchick, of Nanticoke, climbed to the summit of Mount Katahdin in Maine on Aug. 24, completing her 2,189 mile hike of the Appalachian Trail.
Reach Matt Mattei at 570-991-6651 or Twitter @TLArts