Thomas Rhett comes to Mohegan Sun Arena in Wilkes-Barre Township
WILKES-BARRE TWP. — Hailed as "an ushering in of Country's future" by Rolling Stone, Thomas Rhett brings his acclaimed songwriting to the Wyoming Valley.
Rhett performs at 7 p.m. March 9, at the Mohegan Sun Arena, 255 Highland Park Blvd., on his 2017 Home Team Tour. Rhett released his second full length album, "Tangled Up," which offered chart toppers "Die A Happy Man," "Crash And Burn" and "T-Shirt" and reached platinum certification.
"Tangled Up" is ranked in the Top 5 Country Albums on the Nielson 2016 Mid-Year List, and Rhett has garnered two Country Music Association nominations and a Billboard Music Award for his efforts.
Tickets for Rhett's performance go on sale at 10 a.m. Oct. 7 and are available at the arena box office, by phone at 800-745-3000 and online at ticketmaster.com.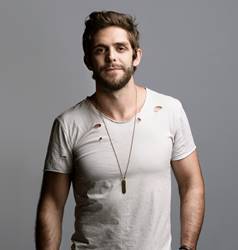 Thomas Rhett's sophomore release "Tangled Up" has reached platinum certification and produced three chart topping hits.
Reach Matt Mattei at 570-991-6651 or Twitter @TLArts