Wilkes-Barre gets weird with F.M. Kirby Center Halloween film series
WILKES-BARRE — F.M. Kirby Center's W. Curtis Montz Film Series wraps up Sept. 21 with the R-rated fantasy/horror film "Tale of Tales," but the performing arts venue's scheduled slate of cinema showings will continue into the Halloween season.
The Oct. 22 Halloween film series opens at 3:30 p.m. at the 71 Public Square, Wilkes-barre venue with "Hotel Transylvania," an animated adventure starring child-friendly versions of famous movie monsters. The Kirby Center will screen Alfred Hitchcock's "The Birds" at 6 p.m. followed at 9 p.m. by iconic slasher film "Friday the 13th."
When the non-participatory movie experiences have concluded, cult-classic fans can ge water pistols, rice and toast (preferably unbuttered) ready for a midnight viewing of the venue's annual "The Rocky Horror Picture Show" event.
Another movie event not related to the Montz film series, the venue's scheduled "Star Wars" trilogy screening, has been canceled due to licencing issues and replaced on the schedule with a 1 p.m. Sept. 3 showing of "Star Wars" parody "Space Balls," starring Rick Moranis, Mel Brooks, Daphne Zuniga, Bill Pullman and John Candy.
"Spaceballs" and all Halloween series screenings are $5 to attend except "Hotel Transylvania," which is $3. Tickets are available at Kirbycenter.org, the Kirby Center box office or at 570-826-1100.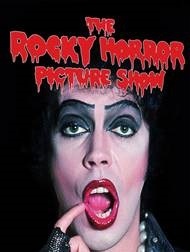 The F.M. Kirby Center's 'The Rocky Horror Picture Show' screening will be midnight Oct. 23.
Reach Gene Axton at 570-991-6121 or on Twitter @TLArts