Motionless in White highlight Warped 2016 at Montage Mountain in Moosic
MOOSIC — While the first fans filed through The Pavilion at Montage Mountain's gates July 11 for, Albany, New York's metalcore band From Lambs to Lions were preparing for its second consecutive Vans Warped Tour performance. This year the band was chosen to play Warped's main stage, and as more concert goers began gathering to watch, nerves began to set in for vocalist Ryan McManus.
"It was about 10 minutes before sound check and there was only 2 rows of people," McManus said. "We got a little nervous and were like, 'OK, people aren't going to make it up to the amphitheatre in time."
"It was just weird because I just looked up and all of a sudden I see people coming," added drummer Marvin Green.
The band is part of a nationwide contest of tour openers judged by industry experts, including New Found Glory guitarist, Chad Gilbert, which offers studio time with Gilbert as a grand prize.
Scranton's Motionless in White are an example of what contests can do for a band; in their early days, the genre-bending group won a slot on Warped's sister tour, Taste of Chaos, alongside acts like 30 Seconds to Mars and The Used. On July 11, the band's early afternoon set drew a crowd that encroached on walkways and merchandise tents.
MiW keyboardist Josh Balz said the band had a hard-hitting song selection in store for their hometown crowd; judging by the crowd's reaction, the power set was a good decision. Vocalist Chris "Motionless" Cerulli commanded the stage from the first note of "Reincarnate," quickly switching singing styles from howling verse to rising chorus while guitarists Ryan Sitkowski and Ricky "Horror" Olson set the scene for each of Cerulli's vocal costume changes.
MiW's live experience, is equal parts impressive and intimidating. The six men on stage pull influences from two generations of rock (arena, glam, metal, hardcore) and smash it together to form something unique; their recent 10 year anniversary and signing to Roadrunner Records is a testament to the staying power something like that can have. According to Balz, The band's new single "570" is a testament to the area and fans they thank for it.
Two of those fans, 18-year-old Zach Wolanski and 16-year-old Kierrya Engels, went from the stage to MiW's merchandise tent for the band's 3:30 p.m. meet-and-greet. They listened to their favorite MiW song ("Abigail") from afar, but were first in line for the signing.
"I heard the song on 'Rock Band' and I just love how the breakdown slows down in the beginning," Wolanski said. "It gets me every time."
Engels said it was the first song she heard from the band and she loved the portion of the set she saw before the two made their way to the signing. She said Cerulli's vocal appreciation for his hometown crowd was "really nice."
From Lambs and Lions and Motionless in White were just two of more than 50 bands that played at Vans Warped Tour. Pop-punk bands Masked Intruder and Teenage Bottlerocket played early sets, while long-running ska band, Reel Big Fish, played in the early afternoon under an amphitheatre roof that also hosted New Found Glory, Sum 41 and Yellowcard.
Whether you are a Motionless in White fan like 21-year-old Allentown resident Brian Anthony or Pepper fans like Scranton residents, Rob Wolenski and Steve Nail, this year's Warped Tour seemed to offer something for everyone — including new acts to check out like Coldrain and ROAM.
Zach Wolanski, 18, and Kierrya Engels, 16, were first in line for Scranton's Motionless in White's 3:30 p.m. signing.
Albany, New York's From Lambs to Lions played the Ernie Ball stage on The Pavilion at Montage Mountain's Warped date last year. This year, the group was the sole recipient of Warped Tour and Ernie Ball's main stage slot for local bands. Their spot puts them in competition with other locals playing Warped Tour for a chance at a grand prize recording session with New Found Glory's Chad Gilbert.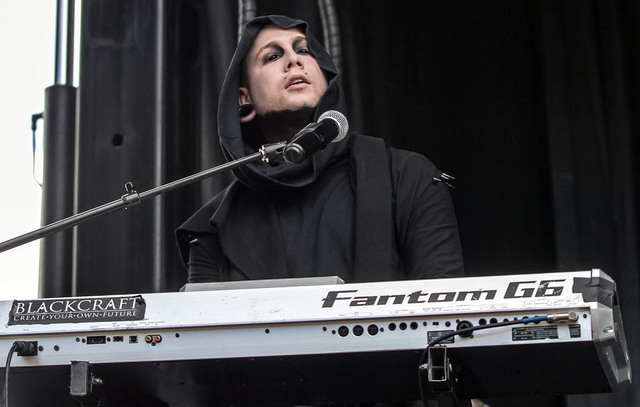 Motionless in White keyboardist, Josh Balz, said the band had a hard-hitting set ready for their hometown Warped Tour crowd, include the new single "570." The band also included "Abigail," "Reincarnate" and other album singles into their 30-minute set.
Motionless in White vocalist Chris "Motionless" Cerulli was moved to tears when he took the stage and saw a large contingent of fans in the crowd holding up signs for the band. The band played a number of album singles, including new song "570."
Scranton residents Steve Nail, (third from left), 20, and Rob Wolenski (fifth from left), 24, pose with friends at The Pavilion at Montage Mountain during Warped Tour 2016. The two said they attended to see Reel Big Fish, Pepper, Less than Jake, The Interrupters and Knuckle Puck.
Reach Gene Axton at 570-991-6121 or on Twitter @TLArts