Multi-faceted Hazleton artist debuts new project on Youtube
HAZLETON — Tedd Hazard doesn't limit himself to one form of creative expression.
The musician, cartoonist, voice actor and graphic designer has pulled his talents to tackle a new medium, the short animated film. Hazard's latest work, "Life is Pain," a film for which he wrote, animated, directed, produced and composed music, debuts June 3 on his Youtube page, http://tlgets.me/jjw.
Hazard's fascination with animation started at a young age. Drawing from the age of 3, he passed time in high school by sketching and was encouraged by friends to create a comic book.
The cartoonist produces two web comics, "Krust Toons," about the music scene in Hazleton and "Whine and Dine," which follows disgruntled diner workers and patrons.
Three of Hazard's comic pieces showed at Stroudsburg's Forwardian Film Festival in mid May, and his folk punk band Condition Oakland has gained exposure throughout Northeastern Pennsylvania and outside of the region.
Animated film, however, is a first for the artist who has experience in sharing his other work.
"Voice acting and cartooning started as something I always wanted to do, and eventually it turned into so much more doing the film."
"Life is Pain" is the darkly comic story of a man whose alcoholism gets in the way of life's worthwhile moments. The story, Hazard said, is somewhat autobiographical.
"When I wrote 'Life is Pain,' I had a lot of problems with addiction," Hazard said.
The tale was originally completed as a standalone graphic novel short story, which Hazard shelved after getting caught up in his daily web comics.
"Even when I wrote the short story, I thought it would be much better in motion," Hazard said.
The short has little dialogue, none of which comes from the main character. Coming off the heels of doing intricate works like his graphic novel "Captain Anarchy," Hazard wanted to depart from the overly complicated style seen in books, film and television.
"I learned a couple years ago that simplicity is bliss," Hazard said. "If you can do something simple and do it right, you can get anybody's attention."
Hazard said he's been encouraged and a bit shocked by the positive response the film has gotten from the critics he's reached out to for review.
Gathering talent beyond his own, Hazard enlisted the help of New Jersey musician Keith Haynes, Hazleton actress Kaitlin Adams and Hazleton musician Chelsea Smarr to voice characters.
After the film's debut, Hazard plans to shop it around to film festivals throughout the summer. His initial goal, he said, was to complete the work, but he's excited to see if it can grab the attention of distributors and investors.
"Maybe my next project won't be self-financed," Hazard said. "Not to knock any of my old stuff, but this is 10 times better than anything I made before."
Cartoonist Tedd Hazard works on an illustration at his home in Hazleton. Hazard's short animated film "Life is Pain" premiers on Youtube June 3.
Cartoonist Tedd Hazard looks over his finished illustration before scanning it into his computer. Hazard wrote, animated, directed, produced and composed music for his newest project "Life is Pain."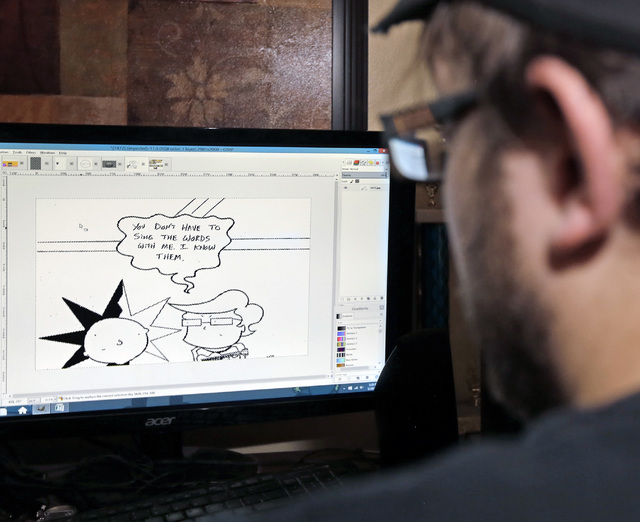 Tedd Hazard of Hazleton works on a digitized version of his illustration. Hazard is a musician, cartoonist, voice actor, graphic designer and film maker.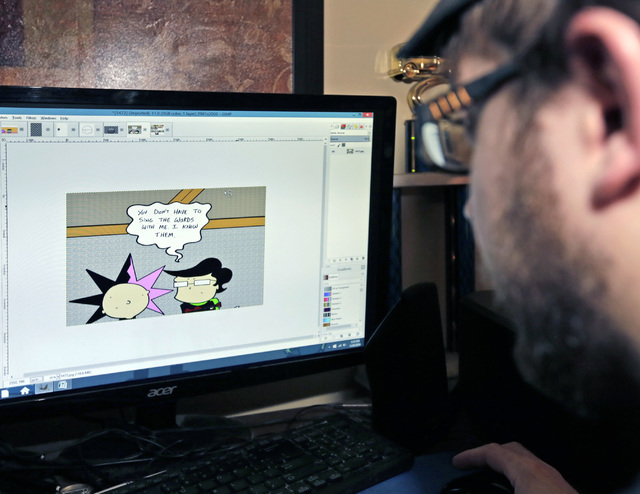 Cartoonist Tedd Hazard of Hazleton colorizes his illustration at his home. His new animated short "Life is Pain," debuts on Youtube June 3, and he's currently working on season three of his web comic "Krust Toons."
Cartoon character sequences drawn by Tedd Hazard are placed in an animated timeline. Hazard combines all of his talents to create graphic novels, web comics and, most recently, animated films.
Reach Matt Mattei at 570-991-6651 or Twitter @TLArts