Bethlehem indie rock band Slingshot Dakota plays Wilkes-Barre record store Gallery of Sound June 4
WILKES-BARRE — In September 2014, Slingshot Dakota's Carly Comando and Tom Patterson had immersed themselves so deeply in their part-time jobs they turned down tours in favor of hours at restaurants that employed them. When friends and family visited the duo's Bethlehem home to celebrate their marriage, the gathering led the indie rock duo to an epiphany.
"It was kind of a breakthrough for us where we were just stuck in this set life of working a job that we accidentally got ourselves into," Comando said. "We kind of realized that we missed touring, we missed doing music, so we wanted to pursue it. Working these restaurant jobs … as much as we like them, they're not helping us get to where we want to get as a band."
After making Slingshot Dakota their full-time job, Comando and Patterson finished writing and recording "Break." Their second release for Peabody, Massachusetts, independent record label Topshelf Records, "Break" is a post-crossroads portrait of Slingshot Dakota — they've already decided in which direction to travel, but they're still dealing with things they had to leave behind.
"It's about breaking up with our jobs to do the band full-time, so a lot of the songs thematically have to do with some kind of breaking point, whether it's a breakthrough or a breaking point with maybe your friend or family member," Comando said. "Every single song, even though it's held together by the theme of a breaking of some sort, it's also a pretty exact diary of what we are going through in our lives."
The two draw comparisons to other high energy male-female duos Matt & Kim and Mates of State, but Slingshot Dakota sets themselves apart by embracing their punk and hardcore backgrounds. "Break" isn't a live album, but the band wanted the new record to channel the energy of their live show and the genres that inspired them. Fans who pick the album up at Gallery of Sound locations will get priority wristbands to see that energy first-hand when the band performs June 4 at the record store's 186 Mundy St. space.
"This recent record is the most accurate representation of our band," Comando said. "Live, me and Tom have so much fun playing. People are always shocked at how much energy we put out. People should definitely bring ear plugs because we're a loud band … their socks might come off. Or their flip flops, I guess it's summertime."
June 4's Gallery of Sound concert is the band's only record store show — they'll spend the rest of June playing festival dates and will embark on an East Coast tour in July with Gainesville, Florida band Dikembe. Comando isn't sure what 2016 holds after their summer touring schedule wraps, but odds are they aren't breaking up with the road anytime soon.
Slingshot Dakota member Carly Comando (right) said the band's live show features a level of energy people don't expect from a group consisting of only two members. On June 4, she and Tom Patterson (left) will play Wilkes-Barre record store Gallery of Sound.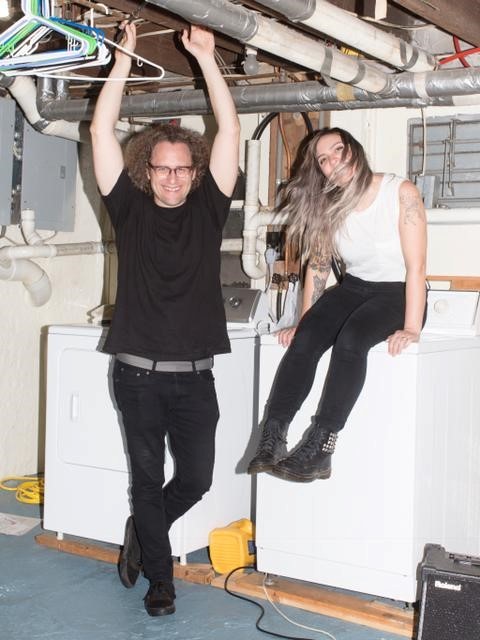 Slingshot Dakota is comprised of Tom Patterson and Carly Comando. On March 22, the duo released their latest record, "Break."
Reach Gene Axton at 570-991-6121 or on Twitter @TLArts
IF YOU GO
Who: Indie rock duo Slingshot Dakota
What: In-store performance and meet-and-greet
When: 4 p.m. June 4
Where: Gallery of Sound, 186 Mundy St., Wilkes-Barre
How Much: Free, but fans who purchase "Break" on CD or LP receive a wristband for priority entry. Fans without wristbands are allowed in until space is full.