Fourth annual Susquehanna Breadown in Moosic delivers brilliant music, moving moments, family atmosphere
MOOSIC — Tents filled the lawn above the Pavilion at Montage Mountain, a rare sight that let those in attendance know something was different about the Susquehanna Breakdown music festival. On a weekend when hosts Cabinet announced a new permanent member to the group, a sense of family was the predominant theme.
The two day aural celebration featured a multitude of Northeastern Pennsylvania's own musical sons while inviting renowned national groups to the tribal gathering May 20 and 21, bringing diversity to the festival and excitement to patrons' ears.
Many festival goers brought their children, which makes even the most avid music fans skeptical in most cases. Breakdown proved to be the perfect environment as children met and played in safety in shot of their parent's watchful eyes.
Scranton artists were represented immediately with The Dishonest Fiddlers and Coal Town Rounders taking the stage early on May 20.
The Fiddlers played from their debut album, "The Whistle Missed the Train," in a display of thoughtful songwriting and adept instrumentation before the Rounders took stage as a band misplaced in time. Singing around a single microphone, the four-piece presented as authorities on the old-time sound.
The Larry Keel Experience, whittled down to a duo with Keel and wife Jenny, wowed the audience with masterful playing, and their version of John Hartford's "Miss Ferris" incited cheers when Keel replaced "Mississippi River" with "Susquehanna River" in the lyrics.
The atmosphere was palpable Friday night when Cabinet took stage for its first set of the weekend. With Keel on stage, they performed, "Old Farmer's Mill," "I Ain't Gonna Work Tomorrow," and David Grisman's "Eat My Dust."
Keel departed and Cabinet kept feet stomping with original tunes "Carry Me In a Bucket" and "Treesap" before sharing their renditions of The Byrds "Mr. Spaceman" and The Grateful Dead's "Easy Wind."
Night one ended in a high energy jam of psychedelia and improvisation as Reading brothers Flux Capacitor coaxed a dance riot out of the crowd, a feat matched by Saturdays's late night headliner Twiddle, who closed with their tale of a disenfranchised monster, "Frankenfoote."
But before the Vermont rockers had people moving late night, May 21 kicked off with a series of Cabinet side projects like Kopek, The Far Future and Free Music Orchestra before giving way to local big guns Tom Graham and Justin Mazer in their duo.
Throughout the afternoon polished and innovative sets were delivered by Cornmeal, Driftwood, Fruition and Philly funk circus Swift Technique, but Cabinet's two sets stole the show.
In the afternoon, the hometown heroes were joined by family and friends for a pair of Crosby, Stills and Nash tunes, "Our House" and "Suite: Judy Blue Eyes," a sight that brought tears to eyes and joy to hearts of audience members.
The band's evening set saved the biggest surprise for last, the announcement that Kingston drummer, Josh Karis, had joined Cabinet as a long-term fixture. Karis walked out three songs into the set, and crowd energy went through the pavilion roof.
He and Cabinet's founding metronome Jami Novak traded phrases during an 8-minute drum solo at the end of a set full of fan hits before ending the night with anthem, "Heavy Rain."
A group of friends look happy to be at the Susquehanna Breakdown music festival in Moosic despite the rainy afternoon May 21.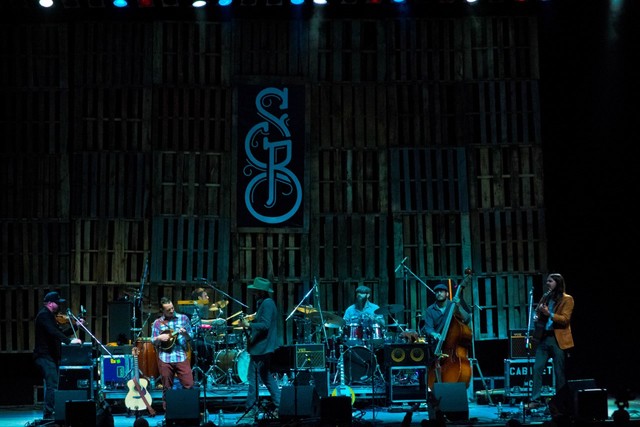 Cabinet took the stage for their evening set on May 21, announcing that Kingston's Josh Karis would be a new addition to the group, and playing hard stomping bluegrass with two drummers for the rest of the night.
Patrons at Susquehanna Breakdown camped in the lawn, a special feature that only happens at the festival started and maintained by hometown bluegrass ambassadors Cabinet.
Festival goers packed under the Pavilion at Montage Mountain for headliners like The Infamous Stringdusters, Railroad Earth, Cabinet and Twiddle.
Todd Sheaffer took the stage with his band Railroad Earth for a late headlining set May 21. The band's delivery of bluegrass was almost epic in style, telling stories of the past.
Larry and Jenny Keel played as a duo May 20. Their dynamic as husband and wife was as entertaining as their brilliant instrumentation.
Music fans make their way between the main stage and the camping area passing the food vendors serving up tasty festival fare.
Reach Matt Mattei at 570-991-6651 or Twitter @TLArts