Ink Spot: Artist Rhi Wallace finds her fit creating other worldly tattoos
If you're looking for a piece of body artwork that is truly out of this world, look no further than Rhi Wallace.
The queen of the temple at A Psychic Unicorn, on Wyoming Avenue in Kingston, 35-year-old Wallace promises clients that anything they request will surely be "Rhi-diculous."
Wallace is more than just a tattoo artist – she, along with her husband Chris, have owned A Psychic Unicorn for roughly six years at their spot in Kingston, however when asked, Wallace estimates that it's been around "for about 1,000 years, approximately."
She comes from a creative background – hailing from Berwick, she pursued an art degree from Edinboro University of Pennsylvania, specializing in graphic design and illustration.
"I worked in a bunch of art jobs before I started tattooing," she said. "I did graphic design work, I was in a print shop …"
"I fell into tattooing because I was searching for something that really fit. I did all those art jobs for a while, but when I came into this, I really took a blind leap into it as a career."
Eight years later, she is not only a successful artist, but also a small business owner.
Her work stands out among that of others in the area because of it's incredible uniqueness. Some have described Wallace's style as being anywhere from "colorblast cosmic" to "neon alien artwork," but regardless of the label, she stands alone with her particular style of art and execution.
"If you come to me, don't expect it to look like flash or Sailor Jerry," she said. "But really, why would you want to look like anyone else anyway?"
Wallace plans to travel this summer across the southeast and beyond, hoping to guest spot at various locations across the country.
When asked if she had any definite dates, Wallace simply had one: "I'm guest spotting on the Moon, with Aquaman, for sure. The rest are all up in the air as of right now."
Outside of tattooing, Wallace is also hugely involved in other traditional forms of artistry, such as painting, drawing and fine arts.
She is currently affiliated with a new local art collective, Cosmic Colorcraft, and urges those interested in her art – and art like it – to check out the project.
"It's going live very shortly," she said.
Created by artist Vinz Clortho, the project aims to be "a collection of cosmic American visual artists chosen to collaborate, translate and levitate the human mind" with prints and other media available for purchase through the webstore.
For anyone interested in booking with Rhi Wallace, please contact A Psychic Unicorn at 570-301-7776.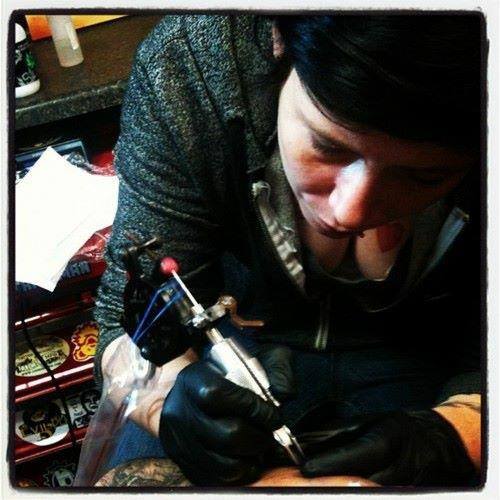 Rhi Wallace tattoos a client at A Psychic Unicorn in Kingston.
Rhi Wallace tattoos a client at A Psychic Unicorn in Kingston.
A tattoo by Rhi Wallace.
A tattoo by Rhi Wallace.
A tattoo by Rhi Wallace.
A tattoo by Rhi Wallace.
A tattoo by Rhi Wallace.
Rachel Holly is a correspondent for Weekender. Reach Weekender at [email protected]
Who: Rhi Wallace, 35
Where: A Psychic Unicorn, Kingston, PA
How long have you been tattooing: Eight years
Signature Style: Explosively colorful surrealism
What inspires you?: "Tattooing is the only thing that quiets the demons in my head."
Most known for: Recognizable Technicolor, bold designs, "super contrast-y color"
Follow her: On Instagram @rhiwallace