Scranton St. Patricks' Parade takes look back at history, embraces future of community
SCRANTON — Since 1962, the St. Patrick's Day Parade has been part of the narrative of Northeastern Pennsylvania, weaving its way into personal traditions and histories.
This year's event takes a look back at Scranton and Irish history while continuing to be an outwardly growing source of pride and community. St. Patrick's Day ceremonies begin at 10 a.m. March 12, with Mass at St. Peter's Cathedral, 315 Wyoming Ave., followed by the Brian P. Kelly memorial two-mile run at 11 a.m. The parade, with its more than 12,000 participants including bands, non-profit organizations, businesses and floats, starts at 11:45 a.m.
John O'Boyle, president of the St. Patrick's Parade Association of Lackawanna County, said this year celebrates the 15oth anniversary of the city of Scranton and the 100th anniversary of the Easter Rising, the 1916 rebellion by Irish republicans to end British rule.
Kate Flannery, who played Meredith on "The Office" is a parade celebrity guest and other new additions include the Express Employment Clydesdales and the Marine Air Wing Band from North Carolina.
"They're leading off the parade this year," O'Boyle said of the Air Wing Band. "They're coming in Friday night, playing the parade and going to the Gino Merli center to play for the veterans there."
O'Boyle, whose father Leo is grand marshal, said the annual parade is a boost for local businesses.
O'Boyle said the size of the crowd from year to year depends on weather and last year's showing was light because of rain.
"If it's 60 and sunny, we could have 100,000 people," O'Boyle said.
Regardless of weather the economic impact on the city is significant, he said.
"We believe it is in the millions of dollars," O'Boye said. "We believe our costs are negligible in comparison to the economic impact which is generated by the parade. You'll see restaurants are packed with people for dinner. People will be going to the mall, the shops downtown, whether it's grabbing a scarf or a sandwich."
Ale Mary's, located at 126 Franklin Ave., opens at 9 a.m. on parade day. The pub features $3 Bud Lights from 9 to 11 a.m. and live entertainment by Black Tie Stereo and Weezer tribute No Memories.
Bar manager Matt Rinkunas said parade day is a special one for business.
"As far as business goes it's that legend of a day," Rinkunas said. "Sometimes people gear up for it all year round. This year we really expect to have a great year. The forecast is looking great."
Economic advantages aside, O'Boyle said the essence of the parade brings people together.
Scranton resident, John McCormick, has a connection to the parade that spans more than 35 years. McCormick was a mainstay in sports journalism in Northeastern Pennsylvania, first as a writer and editor at the Scranton Times and then as color commentator for radio stations WICK and WWDL.
During his years in radio, McCormick was part of teams that put on variety shows from their parade day booth, conducting interviews and entertaining listeners.
McCormick remembered his back and forth with colleague Dennis Crafferty in the late '80s and early '90s.
"We were a pretty good team, two Irish guys singing and telling jokes and having a good old fashioned time," McCormick said. "People said, 'You're a drunk,' and I'd say I wasn't drunk.'"
McCormick's favorite memory of broadcasting at the parade came in 1993 when a blizzard led to canceled festivities.
"We knew we were going to have to do something, because we sold so much advertising," McCormick said. "We did the broadcast as if it was happening in a booth up in the East Mountain hill, and we had the mayor of Scranton's sister city in Ireland on the phone. That was my highlight."
That sister city, Ballina, County of Mayo.
In 2012, McCormick was grand marshal and he has watched the parade grow in size and diversity. He said today you can go to the parade and see people of all ethnic backgrounds wearing green and enjoying the celebrations.
McCormick said the parade had a positive effect on the region by motivating other cities to hold events.
"The parade here in Scranton is so magnified that it has, for lack of a better word, seduced Wilkes-Barre," McCormick said. "They put theirs on. Then along came Pittston. Now we have three parades, and it all started in Lackawanna County."
Rain didn't stop people from lining the streets during the 2015 Scranton St. Patrick's Parade.
Bagpipers march in formation at last year's St. Patrick's Parade in Scranton.
Shamrock Custom Cycles & Auto Collision featured live entertainment on their float during the 2015 parade.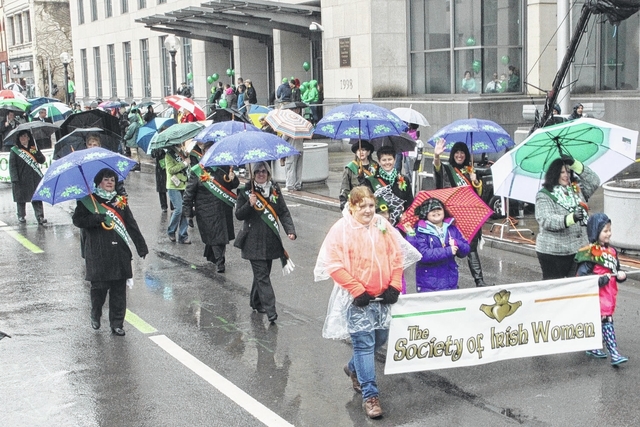 The Society of Irish Women had their umbrellas handy during 2015's parade.
Reach Matt Mattei at 570-991-6651 or [email protected].
If you go:
The Brian P. Kelly memorial run will begin at 11 a.m. in front of the Scranton Cultural Center, 420 North Washington Ave. The St. Patricks Parade will follow at 11:45 a.m., and will begin at the intersection of Mulberry Street and Wyoming Avenue.