Nate Kaschak talks about he got started tattooing for A Psychic Unicorn in Kingston
In the heart of Kingston — tucked away off Wyoming Ave — is a portal to another side of life. To most, it's a simple brick building, however inside, you can step into the cosmic mind of tattoo artist, Nate Kaschak.
Kaschak is the quiet type, unassuming on the outside but inside – now, that's a different story. His art is a beautiful amalgam of spooky psychedelia and traditional art, sprinkled with a touch of other-worldly charm only Kaschak could provide.
He calls A Psychic Unicorn home, tattooing under the helm of Rhi and Chris Wallace, other local pioneers of the vibrantly cosmic art style.
"I've been tattooing a little over three years now," Kaschak adds, bashfully. "I owe it to Rhi and Chris for bringing me into this life and showing me that tattooing is an art form in and of itself, not just a utilitarian thing."
Kaschak, born and raised in Wilkes-Barre, is a Meyers alum and a veteran of the early 2000's punk scene in the region. Carving his youth out of the walls of the gritty Café Metro and remnants of the Hotel Sterling, his counterculture past can directly be seen in his unique take on neotraditional styling.
He is an artist of many mediums — even now. Beginning in 2008, Kaschak was primarily a painter before being lured into the tattoo industry.
"I always had a natural urge to create," he said. "And a compulsive need to vandalize. I just wanted to leave my mark on this world somehow. What drives me now is this quest for knowledge. I want to learn and understand every style of art, how the theories interact with the practice."
He's known for his bold, eye-catching designs. Most of all, Kaschak's signature are his ghosts.
What started as a quick digital painting for a cellphone background quickly grew into a phenomenon – and an artistic signature. People have traveled hundreds of miles to acquire one of Kaschak's ghosts – no two are the same and each tells a different story.
When not spending his days at the shop, Kaschak would most often be found with his two daughters, Annabella and Penelope.
"I always try to give my pieces a traditional feel," he said. "I like tattoos that look like tattoos."
In addition to tattooing, Nate Kaschak has a penchant for other art mediums. This is a self portrait that he painted.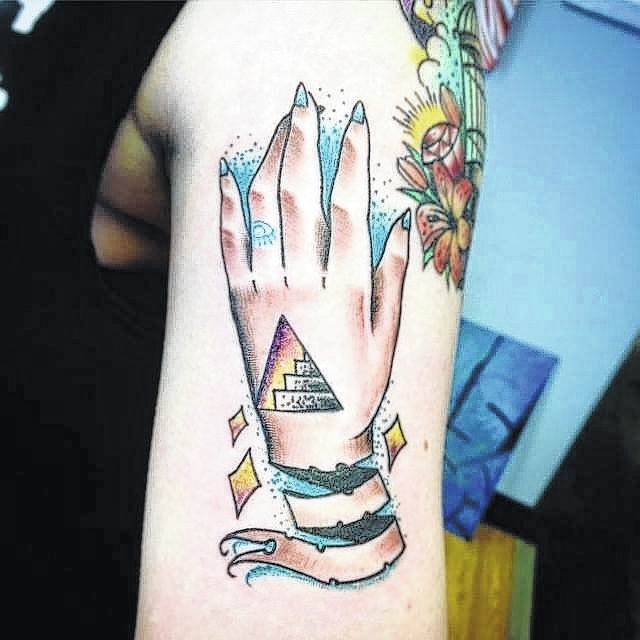 A tattoo by Nate Kaschak, artist for A Psychic Unicorn in Kingston.
A Psychic Unicorn tattoo artist, Nate Kaschak, works on a tattoo for one of his clients.
Rachel Holly is a correspondent for Weekender. Reach Weekender at [email protected]
Who: Nate Kaschak, 26 of Wilkes-Barre
Where: A Psychic Unicorn, Kingston
How long have you been tattooing: Over 3 years
Signature Style: Neotraditional and traditional
What inspires you?: "The natural need to create … and the compulsive need to vandalize."
Most known for: Psychedelic neotraditional pieces, heavy & bright use of color, clean lines, stippling
Follow him: On Instagram @killkaschak