Childhood memories begin with Star Wars at Aunt Nita's
Sausage pizza, popcorn (the kind you made yourself by putting the kernels in the popper) and Coke filled our bellies and we were just settling in for the night when it happened.
My little sister panicked. She had insisted on tagging along with me and Aunt Nita and now late in the evening she wanted to go home.
Aunt Nita, my grandmother's sister, lived in Queens and our home was in the Bronx, so there was no way we were getting back on the train to go home. Not even my grandmother's voice on the phone would soothe my sister — she cried and cried and cried.
There was only one thing Aunt Nita could do. It was the same weapon she used on the six cousins before me. It was used on my mom, my aunt and me — Star Wars.
On her 52-inch TV, my aunt introduced my sister to the three movies that left her spellbound in the late '70s and early '80s. It was the first set of movies I saw at her house. It was classic trio that every child in my family, who was thoroughly potty trained and able to fully communicate their needs, saw when they spent a weekend at Aunt Nita's.
My sister stopped crying, and midway through "The Empire Strikes Back" when I finally began to fall asleep, the last image I remember was of my sister and Aunt Nita huddled up on the coach watching (SPOILER ALERT) Luke Skywalker lose his hand.
When I got up the next morning, my sister was wide awake, eating breakfast and watching "Return of the Jedi." She was a big fan of the Ewoks. I don't know if she and Aunt Nita ever slept that night, but there were no more tears and another Star Wars fan was born.
I don't remember seeing Star Wars for the first time. But I remember being able to read the opening prologue from start to finish without any help and before all the words faded out of view.
I remember Aunt Nita humming along to the theme music. I remember the plastic Millennium Falcon that sat on her TV.
I remember when she showed my younger cousin, Chris, and how absolutely blown away he was. Though he didn't understand how or why Indiana Jones was in space. He still watches the Stars Wars movies regularly.
And when he saw the trailer for the new movie "Star Wars: The Force Awakens" there was one person he wanted to see it with more than anyone else.
Aunt Nita never had any children of her own. But she had a collection of nieces, nephews, grandnieces and grandnephews who call her on every Mother's Day.
So on Dec. 18, well actually a few days after that (we all have jobs), we're all going to the movies with Aunt Nita to see the latest installment.
It's a family tradition.
Through Star Wars Aunt Nita showed us that the sky isn't the limit to heights we could achieve. There are galaxies far beyond that for which to aim.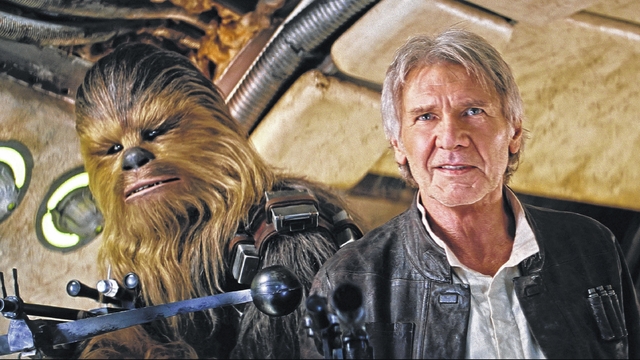 Pictured are Chewbacca and Han Solo. "Star Wars: The Force Awakens" releases everywhere Dec. 18.
Alicia Johnson
Reach Alicia Johnson at 570-991-6397 or follor her on Twitter @TLSports