Wyoming Valley is film studio for production of "Baby Frankenstein"
WILKES-BARRE — Jon YonKondy and Mike Rutkoski are like-minded people who believe films can and should be made in Northeastern Pennsylvania.
When Yonkondy, a USC film school graduate who hails from West Pittston met Rutkoski, a film producer who is a Plains native, they began working on a script for a film Rutkoski had wanted to make for a while. Encouraged by each other's enthusiasm, they set "Baby Frankenstein" in the Wyoming Valley.
With YonKondy's Barefoot Girl Productions and Rutkoski's Milton-Vedic Productions working together, filming began Nov. 16, and since then the cast and crew have put together 17-hour days, shooting in Wilkes-Barre, Exeter and West Pittston. On Nov. 19, the indie project set up in Boscov's on South Main Street in Wilkes-Barre to film on the roof of the parking garage and in the department store.
YonKondy said the script tells the tale of their young main character, Lance, and his friendship with a self-aware automaton that he comes across, and it becomes a buddy comedy.
"We wanted a monster that was really interesting, and creative and original in a way and throw him into our indie comedy, because it's something that people don't do every day, and we think audiences are going to embrace it with open arms because of that," YonKondy said.
The title character, played by New York actor Rance Nix, was perfect for the role, YonKondy said.
"He was a very outgoing, bright personality who really wants to work and explore … he's a lot of fun," YonKondy said. "We knew all of that would translate into this character who we want to be affable and fun and we knew it was going to work from the get-go."
The director noted how having Rutkoski present as executive producer is a privilege.
"It was such a pleasure to work on a project that had resources … and it allowed me to do things cinematically," YonKondy said. "It allowed us to rent a duplex in Exeter and bring in a very good visual effects artist to to do the Baby Frankenstein makeup, and it took our little film to an entire other level, where it became a professional film that is worthy of Netflix."
The cast and crew are comprised of talented people from New York and Los Angeles, but both director and producer are impressed with the local talent they have encountered.
Among those talented people are actress Cora Savage, who lives in Bethlehem but is a Shickshinny native and Iolaus Trowbridge, who hails from Meshoppen and is part of the camera crew.
"We held an open casting call a few weeks ago in Scranton … and the people that came out just blew us away," YonKondy said.
Rutkoski, who tearfully expressed his appreciation for being able to shoot something in his home region, said the crew has received invaluable contributions from Northeastern Pennsylvanians, including their families who are housing and cooking for people involved in the film.
YonKondy said the cast and crew has been embraced with open arms.
"The people at Boscov's were extremely generous, Chacko's, Pizza L'Oven," YonKondy said. "They love the idea of this heartwarming tale being told in their hometown. They've been going above and beyond to provide us anything they can to help us make our dream a reality."
YonKondy said filming will be finished on "Baby Frankenstein" on Sunday in Tunkhannock, and the indie effort will be submitted to film festivals as early as January. He noted that if they can build accolades and gain distribution, they will reach out to Netflix and Amazon platforms. In addition, they are planning a premier showing in Northeastern Pennsylvania for the summer and hope local residents will come to support the project.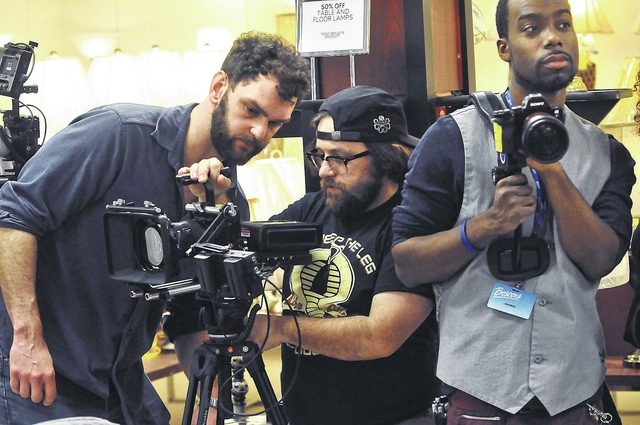 John Yonkondy, director checks the camera angle of John Hudak Jr. camera during the making of a film at Boscov's Department store titled "Baby Frankenstein" at right is Mike Larry Draw.
Rance Nix playing the part of Baby Frankenstein in a movie where some of the scenes were filmed at Boscov's Dept store in Wilkes-Barre.
Director Jon Yonkondy (right) giving direction to several of the actors Eileen Rosen Yannis, Stergiopoulos and Patrick McCartney before filming a scene from a movie being shot at Boscov's Dept Store in Wilkes-Barre.
Filming a scene form "Baby Frankenstein" at Boscov's Department Store Thursday afternoon. Shown left to right are, Neal Siedman, Yannis Stergiopoulos, Patrick McCartney, Eileen Rosen, Mike Ruthkoski and John Hudak Jr.
Reach Matt Mattei at 570-991-6651 or [email protected]