Tap This: Some gift ideas for the beer lover
Beer lovers can be a very fickle bunch.
We love great beers and always seem to be on the hunt for new uncharted tastes. Many of us are willing to wait in line for hours just to get a few great beers. We are also willing to travel hundreds of miles to wait in line for these beers. So what do you get the beer lover for the holidays?
Sure getting some beer is always a great choice, but unless your beer lover is the type to collect bottles or labels, it sometimes feels that those gifts just become another beer in a collection of beers. So what do you get the beer lover who has it all?
Here is a short list of some great beer related gifts for that special beer lover in your life. Some of these are local and some only available online, but all are perfect and if you act now will be here in time for the approaching holidays!
Home Brew Kit: Any true beer lover is not just into the taste of great beer, but also the process. As palates adjust to great craft beer it becomes more discernible to specific flavors and ingredients within the beer. The best way to truly pick apart ingredients within a beer is by making it yourself. As with anything in life, getting good at it takes time but along the way, discoveries will be made and friends will be gained. The homebrew community is one of the most welcoming around. A great starter kit can be purchased at any local homebrew shop or online through companies such as Northern Brewer or More Beer. The cost for a full starter kit and ingredients is around $100, but it can be a lifelong investment.
Beer cleansing products: Beer is not just something to drink, it is also something that can be used to cleanse yourself. Don't worry, you won't finish smelling of alcohol. There is a plethora of beer soaps available online with scents featuring Guinness, Stone Smoked Porter, Smuttynose Finest Kind IPA, and many more. The scents are subtle yet refined and they are perfect gifts for beer lovers, man or woman! However, beer cleansing goes much further than just soap. Many companies have begun using yeast and malt from beer in shampoos and the results are great. Most do not have a strong alcohol smell and they clean quite well. Companies such as Broo and Duffy's have some great beer-infused shampoos with a variety of scents.
Wooden six pack holder: These make great gifts, especially for the beer lover who loves to share beers. They are reusable and most have an attached bottle opener so no more digging for your keys or searching in a drawer. There is a wide range of quality as they have become popular with many companies who make rather cheap items producing them at lower costs. But, be careful, lower cost could mean lower quality. My favorite is created by a local company called Wood and Rustic, they do not have a physical store but you can find them on Facebook and at some local craft fairs, which is where I picked up mine. It's a beauty. They also will build from scratch with custom colors if you desire.
Beer: I know I said look elsewhere, but come on, we love beer so beer will undoubtedly make us happy. The trick is to try and find something we love and also something new that we may have either not been able to find or that is brand new to the market. This may require a bit of dirty work.
The holidays can be a stressful time. The hustle and bustle sometimes overshadows the little moments when we can spend time with loved ones. So no matter what you are searching for and whether your hunting is successful, just remember the real reason for the season. Sit down with friends and loved ones, step away from the fast paced life, enjoy a great beer together, and most importantly relax a bit.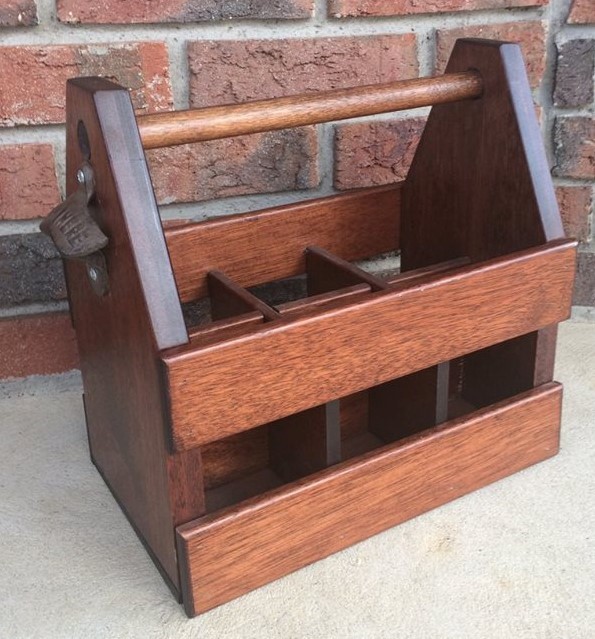 A wooden six-pack carrier is a great gift option for a beer lover in your life.
Derek Warren is a beer fanatic, avid homebrewer and beer historian. Derek can be heard weekly on the Beer Geeks Radio Hour at noon on Sundays on WILK 103.1 FM with past episodes available on iTunes.